It's 106 miles to Chicago!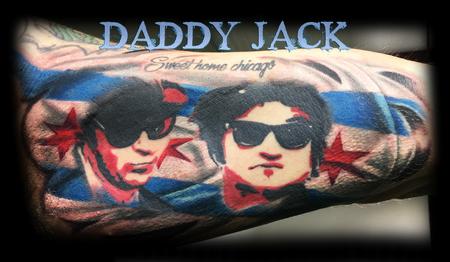 Everyone should know these two people! Daddy Jack knocked it out of the park with this Blues Brothers piece!
#blues #bluesbrothers #fullcolor #fullcolortattoo#fullcolortattoos #armtattoo #armtattoos #armtatt#armtat #chicago #jakeandelroy #fillertatt#fillertatts #fillertat #fillertats #rayban #raybans#chicago #chitown #chicity #windycity#chicagogram #chicagoshots #instachicago#chigram #chicagoland #chicagolife #chicagolove#star #sunglasses #merica #daddyjackstattoos #Cheyennehawkpen #Eternalink #daddyjacksbodyartstudio #keller #texas #kellertx #tattoo #inked #tattootherapy #kellertattoo #texastattoo #kellertxtattoo #tattoos #inkedup #inktherapy #kellertattoos #texastattoos #kellertxtattoos #tattooed #inkedlife #awardwinning #tattooink #ink #inkaholiks #stencilstuff @djtattoo #tattoosofamerica #fortworthtattoo #fortworthtattoos #fortworth #fortworthtx #fworth #fworthtx #fworthtattoo #fworthtattoos #fworthtxtattoo #fworthtxtattoos #dfw #dfwtattoo #dfwtattoos #dfwtx #dfwtxtattoo #dfwtattoos
Artist Products For Sale
No products are available at this time. Please check back later!