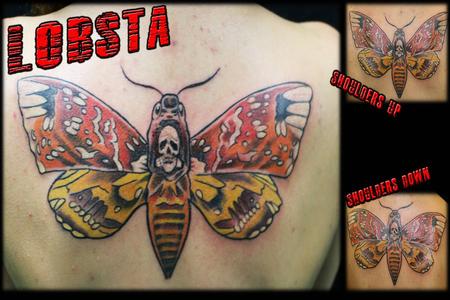 Check out this bug!!! Custom designed by Lobsta! Come in and get yours!
LOBSTA-MOTH!!!! That is all...enjoy
#fullcolortattoo #moth #mothtattoo #deathmoth #deathmothtattoo #fullcolormothtattoo #fullcolordeathmothtattoo #backbug #backbugtattoo #backtattoo
#daddyjacksbodyartstudio #lobstastyle #lobsta #tattoo #kellertx #texastattoos #kellertattoos #kellertxtattoos

Keyword Galleries:
Color Tattoos
,
Evil Tattoos
,
Realistic Tattoos
,
Skull Tattoos
,
Body Part Back Tattoos
,
Custom Tattoos
,
Finished Work Tattoos
,
Nature Animal Insect Tattoos
,
New Tattoos
,
Oddities Tattoos
,
Original Art Tattoos
,
Sci Fi Tattoos
Artist Products For Sale
No products are available at this time. Please check back later!