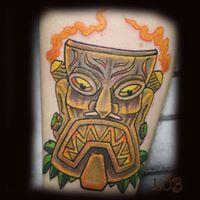 Lobsta-style Tiki Guy lovin the glow and fire!

#daddyjacksbodyartstudio #lobstastyle #lobsta #keller #texas #kellertx #tattoo #inked #tattootherapy #kellertattoo #texastattoo #kellertxtattoo #tattoos #inkedup #inktherapy #kellertattoos #texastattoos #kellertxtattoos #tattooed #inkedlife #awardwinning #tattooink #ink #inkaholiks #stencilstuff #daddyjackstattoos #tattoosofamerica #fortworthtattoo #fortworthtattoos #fortworth #fortworthtx #fworth #fworthtx #fworthtattoo #fworthtattoos #fworthtxtattoo #fworthtxtattoos #dfw #dfwtattoo #dfwtattoos #dfwtx #dfwtxtattoo #dfwtattoos #islandtattoo #fullcolortattoo #tikitattoo #tikiguytattoo #tikigirltattoo #tikimantattoo #tikiladytattoo #tikimasktattoo #totempoletattoo
Keyword Galleries:
Color Tattoos
,
Portrait Tattoos
,
Realistic Tattoos
,
Body Part Leg Tattoos
,
Cartoon Tattoos
,
Custom Tattoos
,
Ethnic Tattoos
,
Ethnic Native American Tattoos
,
Family Heritage Tattoos
,
Finished Work Tattoos
,
General Tattoos
,
Illustrations Tattoos
,
Misc Tattoos
,
New Tattoos
,
Oddities Tattoos
,
Original Art Tattoos
,
Stand Alone Tattoos
Artist Products For Sale
No products are available at this time. Please check back later!