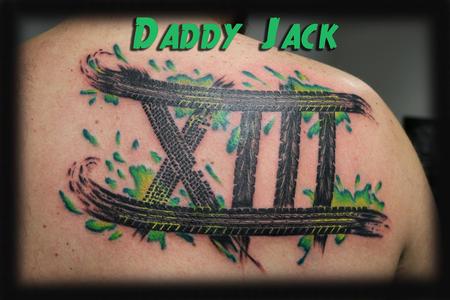 This clients lucky number is 13, each tire tread you see, correlates to every tire the client owns!
#daddyjackstattoos #Cheyennehawkpen #Eternalink #daddyjacksbodyartstudio #keller #texas #kellertx #tattoo #inked #tattootherapy #kellertattoo #texastattoo #kellertxtattoo #tattoos #inkedup #inktherapy #kellertattoos #texastattoos #kellertxtattoos #tattooed #inkedlife #awardwinning #tattooink #ink #inkaholiks #stencilstuff @djtattoo #tattoosofamerica #fortworthtattoo #fortworthtattoos #fortworth #fortworthtx #fworth #fworthtx #fworthtattoo #fworthtattoos #fworthtxtattoo #fworthtxtattoos #dfw #dfwtattoo #dfwtattoos #dfwtx #dfwtxtattoo #dfwtattoos #fullcolor #fullcolortattoo#fullcolortattoos #fullcolortat #coloredtattoo#coloredtattoos #realistictattoo #realistictattoos#realismtattoo #realismtattoos #luckynumber#tiretat #tiretattoo #tiretattoos #romannumerals#nuclear #splatter #offroad
Artist Products For Sale
No products are available at this time. Please check back later!