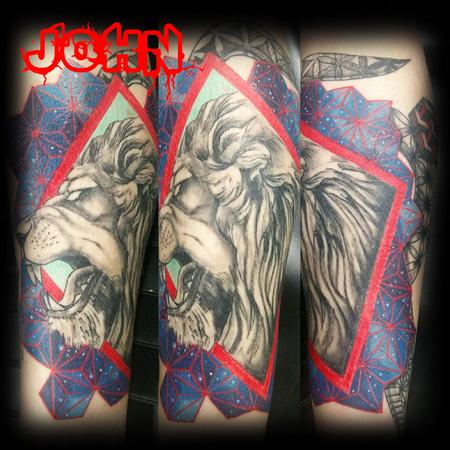 John has been working on this fully custom lion piece for quite awhile, and the time put into this speaks for itself!
#Johnnywang #fkirons #daddyjacksbodyartstudio #keller #texas #kellertx #tattoo #inked #tattootherapy #kellertattoo #texastattoo #kellertxtattoo #tattoos #inkedup #inktherapy #kellertattoos #texastattoos #kellertxtattoos #tattooed #inkedlife #awardwinning #tattooink #ink #inkaholiks #stencilstuff #tattoosofamerica #fortworthtattoo #fortworthtattoos #fortworth #fortworthtx #fworth #fworthtx #fworthtattoo #fworthtattoos #fworthtxtattoo #fworthtxtattoos #dfw #dfwtattoo #dfwtattoos #dfwtx #dfwtxtattoo #dfwtattoos #LEGDAY #CALFTATTOO #LEGTATTOO#FINISHEDPIECE #CUSTOMTAT #FULLCOLOR#LION #GEOMETRIC #LEGSDAY #LEGSDAYS
Artist Products For Sale
No products are available at this time. Please check back later!