Bringing the Positive Back!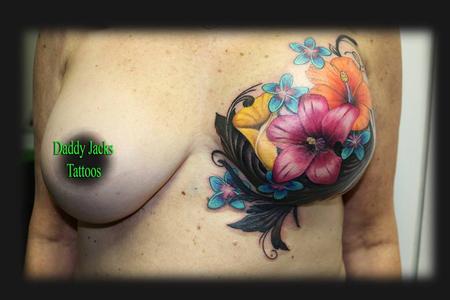 "the best part of being a tattoo artist is changing lives when a piece like this comes in!" - Jack
#fullcolor #fullcolortattoo #fullcolortattoos#fullcolortat #coloredtattoo #coloredtattoos#realistictattoo #realistictattoos #realismtattoo#realismtattoos #realisticflowers#realisticflowerstattoo #bright #vivid#brighttattoo #hibiscustattoo #hibiscus#realistichibiscus #filigree #filigreetattoo#filigreetat #scarcoverup #daddyjackstattoos #Cheyennehawkpen #Eternalink #daddyjacksbodyartstudio #keller #texas #kellertx #tattoo #inked #tattootherapy #kellertattoo #texastattoo #kellertxtattoo #tattoos #inkedup #inktherapy #kellertattoos #texastattoos #kellertxtattoos #tattooed #inkedlife #awardwinning #tattooink #ink #inkaholiks #stencilstuff @djtattoo #tattoosofamerica #fortworthtattoo #fortworthtattoos #fortworth #fortworthtx #fworth #fworthtx #fworthtattoo #fworthtattoos #fworthtxtattoo #fworthtxtattoos #dfw #dfwtattoo #dfwtattoos #dfwtx #dfwtxtattoo #dfwtattoos
Keyword Galleries:
Color Tattoos
,
Coverup Tattoos
,
Feminine Tattoos
,
Flower Tattoos
,
Nature Tattoos
,
Realistic Tattoos
,
Abstract Tattoos
,
Body Part Chest Tattoos for Women Tattoos
,
Custom Tattoos
,
Finished Work Tattoos
,
Flower Vine Tattoos
,
Illustrations Tattoos
,
New Tattoos
,
Original Art Tattoos
,
Stand Alone Tattoos
Artist Products For Sale
No products are available at this time. Please check back later!