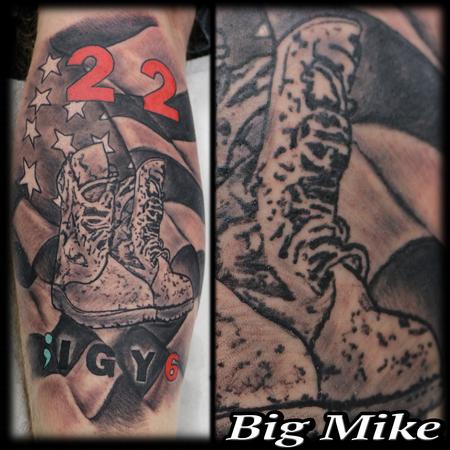 A piece I had the luxury of tattooing today! Happy Veteran's Day and Thank you for your service! #veteranstattoo #blackandgreytattoo #bootstattoo #igotyoursixtattoo #IGY6 #americanflagtattoo #calftattoo #Worldfamousink #eternalink #daddyjackstattoos #bigmike #peakneedlecartridges #filterv2 #bigmikestattoos #tattslug1981 @tattslug1981 #daddyjacksbodyartstudio #keller #texas #kellertx #tattoo #inked #tattootherapy #kellertattoo #texastattoo #kellertxtattoo #tattoos #inkedup #inktherapy #kellertattoos #texastattoos #kellertxtattoos #tattooed #inkedlife #awardwinning #tattooink #ink #inkaholiks #stencilstuff #tattoosofamerica #fortworthtattoo #fortworthtattoos #fortworth #fortworthtx #fworth #fworthtx #fworthtattoo #fworthtattoos #fworthtxtattoo #fworthtxtattoos #dfw #dfwtattoo #dfwtattoos #dfwtx #dfwtxtattoo #dfwtattoos
Keyword Galleries:
Black and Gray Tattoos
,
Blackwork Tattoos
,
Color Tattoos
,
Lettering Tattoos
,
Realistic Tattoos
,
Star Tattoos
,
Body Part Leg Tattoos
,
Custom Tattoos
,
Finished Work Tattoos
,
General Tattoos
,
Illustrations Tattoos
,
Memorial Tattoos
,
Military Tattoos
,
Misc Tattoos
,
New Tattoos
Artist Products For Sale
No products are available at this time. Please check back later!