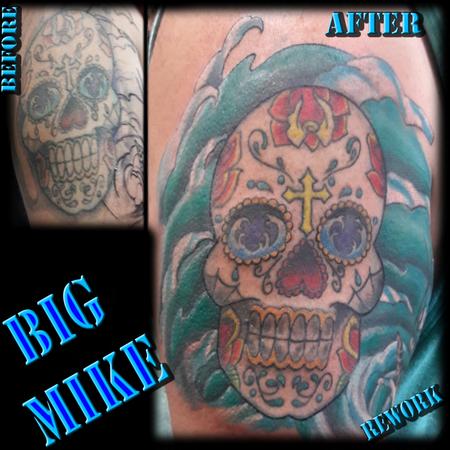 This gentleman just wanted to rephresh his piece! I added some freehand background waves to give it a more complete look. The answer is not always a cover up! Sometimes we can breathe new life into the oldies. Have a tired tattoo? I'd love to bring it back to life for you. Call, email, message, or come by the shop to talk to me or set an appointment. Consultations are always free.
#Worldfamousink #eternalink #daddyjackstattoos #bigmike #peakneedlecartridges #filterv2 #bigmikestattoos #tattslug1981 @tattslug1981 #daddyjacksbodyartstudio #keller #texas #kellertx #tattoo #inked #tattootherapy #kellertattoo #texastattoo #kellertxtattoo #tattoos #inkedup #inktherapy #kellertattoos #texastattoos #kellertxtattoos #tattooed #inkedlife #awardwinning #tattooink #ink #inkaholiks #stencilstuff #tattoosofamerica #fortworthtattoo #fortworthtattoos #fortworth #fortworthtx #fworth #fworthtx #fworthtattoo #fworthtattoos #fworthtxtattoo #fworthtxtattoos #dfw #dfwtattoo #dfwtattoos #dfwtx #dfwtxtattoo #dfwtattoos #coloredtattoo #coloredtattoos #fullcolortattoo #fullcolortattoos #armtattoo #freehandwaves #wavestattoo #reworktattoo #skulltattoo #skull #sugarskull #sugarskulltattoo
Keyword Galleries:
Color Tattoos
,
Cross Tattoos
,
Flower Tattoos
,
Nature Tattoos
,
Skull Tattoos
,
Body Part Arm Tattoos
,
Collaborative Tattoos
,
Custom Tattoos
,
Finished Work Tattoos
,
Flower Rose Tattoos
,
Misc Tattoos
,
Nature Water Tattoos
,
Rework Tattoos
Artist Products For Sale
No products are available at this time. Please check back later!